For those that might not know, Jim Ablett maintains an excellent web page containing a wide variety of computer chess engines. All of the chess programs are free downloads and hosted through his good nature and a cooperative web host.  The thanks of computer chess online goes out to you Jim, you are a guru of the free chess engine!
What also might not be commonly known is that whenever the code for these free chess engines is publicly available Jim will also recompile the code to run more efficiently. Jim's recompiles of well-known chess engines often run better than the original chess program did!
Have a look at Jim's work at: http://jimablett.hostwebs.com/ (no longer valid)
Edit: Jim's site moved again and he has retired from his compilation work – a sad loss.
The final repository of Jim's work is at: http://jimablett.net63.net/ (Edit: Sorry this link was later found to have 4(!) trojans in the download. I have removed the active link, but leave the location as anyone with an up to date virus scanner may still wish to visit).
(The old site at: http://homepages.tesco.net/henry.ablett/jims.html is no longer maintained.)
It is a testament to the quality of the work that Jim does in his recompiles that many of the authors of many free chess engines are now going to him to have their code "tweaked".
So, if you are looking for free chess software in the form of winboard or UCI chess engines then Jim's page is a good place to start.
Some of the files he hosts include (no particular order):
Rival Chess
Red Queen Chess
Protector
GNU Chess
Simplex
Greko
Komodo
Gez
Mizar
Sjeng
Scorpio
Chess One
Crafty
Beaches
Fimbulwinter
Sungorous
Alibaba
And many, many more.
Stockfish – Free Chess Engine
As a separate word of note.  Jim also compiled the latest version of Stockfish.  Stockfish is a free chess engine that is now within a few Elo points of Rybka 4 (currently the world's strongest chess engine).  This is a great achievement by the team behind Stockfish and it must be mentioned that they deserve full credit and the thanks of the community at large for making a chess engine of this quality freely available.
If for some reason the download is offline you can get the Stockfish chess engine from: https://stockfishchess.org
Also, take a look at the custom made opening book to suit the engine's particular style of play.
About UCI and Winboard Chess Engines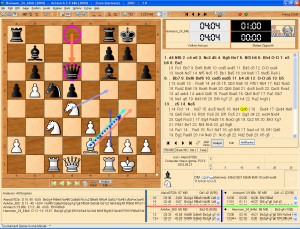 Winboard and UCI compatible chess programs do not run on their own.  You need a GUI to operate them.  Thankfully there are a number of free chess interfaces available.
My personal recommendation is Arena – which is hosted at: http://www.playwitharena.com/
Full explanation of the various parts of the install is dealt with on the site and Arena even comes with an early (and free) version of Rybka.
Of course if installing all these bits of software is not your thing then feel free to try out our free online chess game here at computer chess online.
Happy playing!