En passant definition and origins
En passant is a special pawn capture move in chess (En passant meaning "in passing", in French).
The en passant rule dates from the 15th century. Originally pawns could only move one square forward at a time. An improvement was suggested to change the rules of chess so that a pawn may move two squares on its initial move. Unfortunately, this sometimes meant that a pawn could move past an opposing pawn without being taken. The en passant chess move was an additional modification to stop this happening.
If a pawn moves two ranks forward on its initial move and an enemy pawn could have captured it, had it moved only one, then the enemy pawn may capture the pawn "in passing". This capture must be made on the turn in which the opportunity occurs, otherwise, the chance is lost.
Example of en passant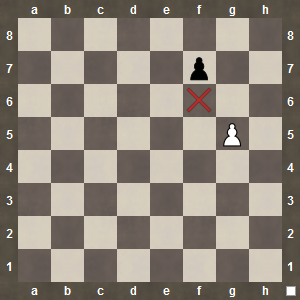 Here is an example of the rule in action. Black to play. Normally black would move the pawn one square to f6 (marked by the red cross), but this would enable it to be taken by the white pawn on g6.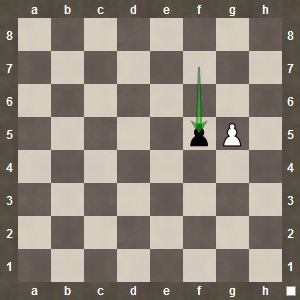 Instead of the move to g6, black uses his initial pawn move to move the pawn TWO squares to f5, hoping to avoid capture.

White had read this tutorial (!) and was aware of the opportunity to take the black pawn and chooses to do so.
Please note that the white pawn does NOT go on the square when the black pawn was (shown by red cross), but rather moves as though the white pawn had moved one square only. This is the only time in chess where a piece does not replace the piece it captures on the same square.
Further information
Taking en passant in chess is often employed as part of chess puzzles as many new players are unaware of it. Some consider it one of two special chess moves, the other being castling (king and queen side).
More information about this chess rule is available on wiki.
This chess rule is probably the one that catches out the most beginners. It has certainly attracted a lot of comments on the chess game page.
If this article has helped you, or even if it hasn't (!), please leave a comment below and let me know what you think.