Chess is a great game to develop strategic thinking, but as a parent how can it be broken down into manageable chunks for a young child? Perhaps some easy chess games for kids would help out with the teaching process? If the child is of reading age then perhaps a book to teach chess might be useful, or perhaps for the parent too?  There are of course many options and here is the computer chess online list of suggestions to try.
Free Online Chess for Kids
Use the online flash chess game here on this website. (Shameless plug!)
Flashchess3 gives a great game of chess for kids and plays on a nice 3d board.  Left click with the mouse selects a piece to move (when it is your turn). The legal moves for a given piece are all highlighted so teaching the moves is straightforward and the computer is not too strong as to make it impossible to win.  There are three difficulty levels to further match the ability of the player to the level of the game.
Click here for an easy chess game for kids.
Download the Crafty Chess GUI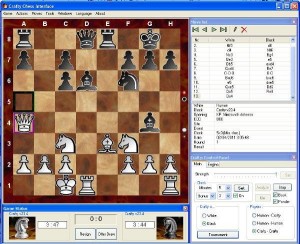 This is an offline option and little bit more complicated.  Some knowledge of software is required as the program will have to be downloaded and installed on your PC, but the results are worth it. The advantage here is that once the initial setup is completed your child will never outgrow the program.  Not bad for a fee download.
How can I be so confident?  Well, chess software beat the world's best chess player at the time (Gary Kasparov) some years ago.  Since that time chess programs have only got better.
The Crafty chess engine plays chess to a very high standard (Grandmaster) on maximum settings, but using this free interface it can be limited to a more reasonable level. After all, we did promise you "Easy Chess Games for Kids", right?
First, download and install the Crafty GUI itself.
The interface can be downloaded from: http://valters-and.co.cc/crafty/gui.php
The Crafty book files are available from: http://valters-and.co.cc/crafty/files/crafty_23.2_book.zip
Unzip the GUI file into a folder of your choice and then download the Crafty book files and copy them into exactly the same folder as the folder Crafty was unzipped into.  (Copy the book files over only, not the files still in the unzip folder.)
When you double click the Crafty.exe in the folder you chose the program will automatically find the book files if they have been placed in correct folder. At this point it might be worth making a desktop shortcut icon too.
If you run into any difficulties along the way please follow the instructions given on the main Crafty website which is at: Crafty Chess
All downloads are free.
Commercial Options
Free software is often excellent, but sometimes you want life to be simple.  Commercial chess software installs automatically and offers a great user experience. A very popular piece of chess software is what we will consider next.
FRITZ CHESS 12
The Fritz Chess software has been around a long time.  It offers a good user interface and can be set to play at almost any level. The interface offers all the usual refinements such as allowing moves to be taken back and so on. It can also assess your child's playing strength once they reach a reasonable level. This is much more than a simple chess game for kids though, it is a full blown chess GUI and grandmaster strength chess engine.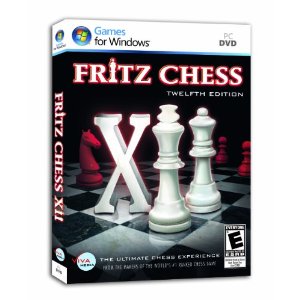 Fritz 12 offers chess for kids and adults both. The user interface is quite straightforward and if you don't like a particular element on screen it is easily removed.
Teaching Your Child to Play Chess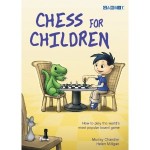 Over time your child will improve in their chess playing ability.  There are a number of books available to speed this process along and probably the best modern book on this subject is:  Chess for Children
It is a hardcover book with a reading age of 9-12. The books main character George is taught how to play chess by his pet alligator, Kirsty. Kirsty is the Grand Alligator of Chess, or so he says…
All in all a good, fun book to teach your child chess.